We're thrilled to share that Palo Alto Networks has been named a Representative Vendor in the Gartner® Market Guide for Digital Experience Monitoring for a consecutive time. 
In this report, Gartner provides market analysis, strategic recommendations, and a list of Representative Vendors for digital experience monitoring (DEM). According to Gartner, "Digital experience monitoring tools continue growing as organizations struggle to support customer as well as employee experience in the remote working world. I&O leaders should leverage DEM to identify technology performance issues and align application performance to support business objectives."
Palo Alto Networks' Autonomous Digital Experience Management (ADEM) was recognized as a Representative Vendor with Real User Monitoring Technologies, Endpoint Monitoring Technologies, and Synthetic Transaction Monitoring Technologies.
Why enterprises need DEM 
With the emergence of hybrid work, poor user experience has become far too common—users complaining about slow applications, network outages, machine crashes and poor WiFi is now an everyday occurrence. 
There are many new variables for enterprises to consider when supporting hybrid workers. IT and network teams do not control the user's environment, yet are still responsible for end-to-end user experience. Sitting between business-critical apps and end-users are a host of dependencies and third-parties, such as cloud providers, CDNs, DNS providers, first and last-mile ISPs, WiFi networks, and more that can impact performance and result in a poor experience.
DEM solutions help enterprises proactively manage end-user experience and take measures to prevent problems, like application performance degradation, from inhibiting workforce productivity. DEM solutions arm IT with the necessary insights and visibility to help identify the root cause of performance issues and resolve them.
According to Gartner, "by 2026, at least 60% of infrastructure and operations leaders will use DEM to measure application, services, and endpoint performance from the user's viewpoint, up from less than 20% in 2021."
ADEM excels at all 3 capabilities required for DEM 
Gartner identifies three core capabilities required for a DEM platform. Palo Alto Networks is recognized as a Representative Vendor in all three:
Endpoint monitoring:  Endpoint monitoring should include the collection of information about things like CPU utilization, memory usage, and Wi-Fi metrics like signal strength, RX, TX utilization, and more

 to determine the negative impact those things may be having on a user's digital experience. 

Real-user monitoring (RUM):  RUM tracks performance based on real traffic coming from actual users. It's a reliable technique to monitor how the application is being used and how real- world parameters such as network latency, device variation, and so on affect the end-user experience. 
Synthetic transaction monitoring: Synthetic monitoring runs regular tests from a source to a destination, or from a user to an application, that allow IT to monitor network and application service performance even when they aren't being used. This enables IT to understand the performance of assets they don't own and can't instrument, like SaaS applications and user ISPs. With synthetic monitoring, IT can easily diagnose a problem, because they have a baseline of app performance that enables them to pinpoint when and where the performance bottleneck is, like a network outage. 
We believe ADEM's key capabilities and strengths are aligned with these requirements.

How ADEM helps enterprises 
With ADEM, we've helped IT teams reduce mean time to resolution (MTTR), costly ticket escalations and ticket volume; we've helped teams increase workforce productivity; and we've helped businesses smoothly transition to hybrid workplaces while ensuring the best possible user experience.
Whether it's device performance, Wi-Fi signal strength, broadband WAN connectivity, a middle-mile internet service provider (ISP) introducing heavy latency or loss, or SaaS provider issues, ADEM will diagnose it. With ADEM, operators have a full view of their end-user experience with visibility from remote users and corporate site performance at the same time. ADEM empowers both IT teams and the hybrid workforce to do their best work, wherever they are. 
Read more about DEM in the new Gartner report.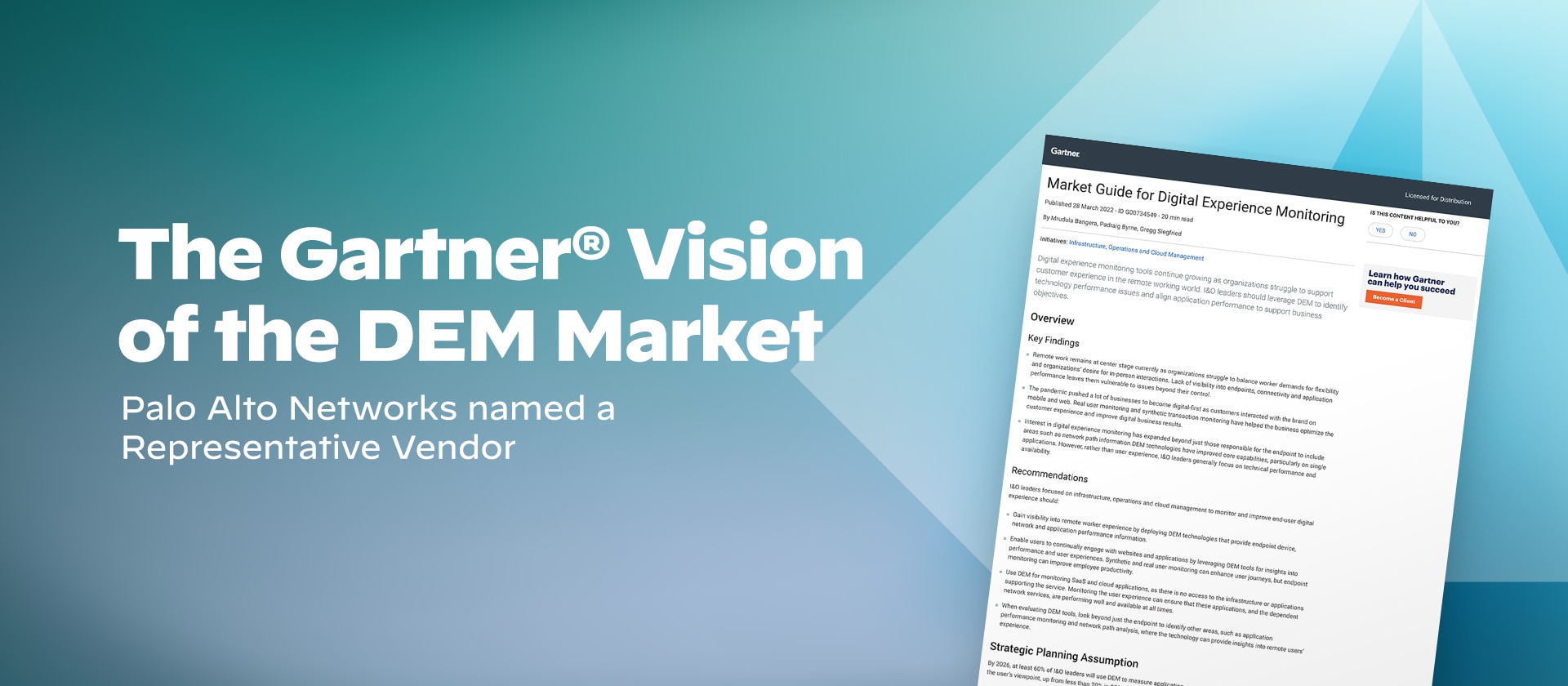 Gartner, Market Guide for Digital Experience Monitoring, Mrudula Bangera, Padraig Byrne, Gregg Siegfried, 28 March 2022.
GARTNER is a registered trademark and service mark of Gartner, Inc. and/or its affiliates in the U.S. and internationally and is used herein with permission. All rights reserved.
Gartner does not endorse any vendor, product or service depicted in its research publications, and does not advise technology users to select only those vendors with the highest ratings or other designation. Gartner research publications consist of the opinions of Gartner's Research & Advisory organization and should not be construed as statements of fact. Gartner disclaims all warranties, expresses or implied, with respect to this research, including any warranties of merchantability or fitness for a particular purpose.
Palo Alto Networks was recognized as Sinefa in the 2020 Market Guide.