ZTNA 2.0 Is Here. SASE Is Now. See What's Next.
When the pandemic swept across the globe two years ago, it upended every aspect of our lives. At the same time, it also inspired new ways of conducting our personal and professional worlds. For example, our relationship with work shifted from the idea it's a place to go, to an activity you can now do anywhere.
This shift in thinking has also offered us a glimpse into the future of work. Organizations around the world are becoming cloud-first to ensure business resilience, scalability and flexibility for a new hybrid workforce. SASE enables this to happen, without compromising on performance or user experience. In fact, according to Gartner's 2022 Roadmap for SASE Convergence report, by 2025, 80% of enterprises will have adopted a strategy to unify web, cloud services and private application access using a SASE/SSE architecture, up from 20% in 2021.[1]
Against that backdrop, I'm excited to announce SASE Converge 2022 will be taking place on September 13 and 14 this year. SASE Converge is the industry's premier global event to learn about what's next for SASE. Last year, we had tens-of-thousands of people join us to hear from the leading industry experts on the future of SASE. This year, the focus will be on making SASE real, now. Experts from Palo Alto Networks and thought leaders from across the industry will provide best practices and pragmatic recommendations that can help you expedite your SASE deployment.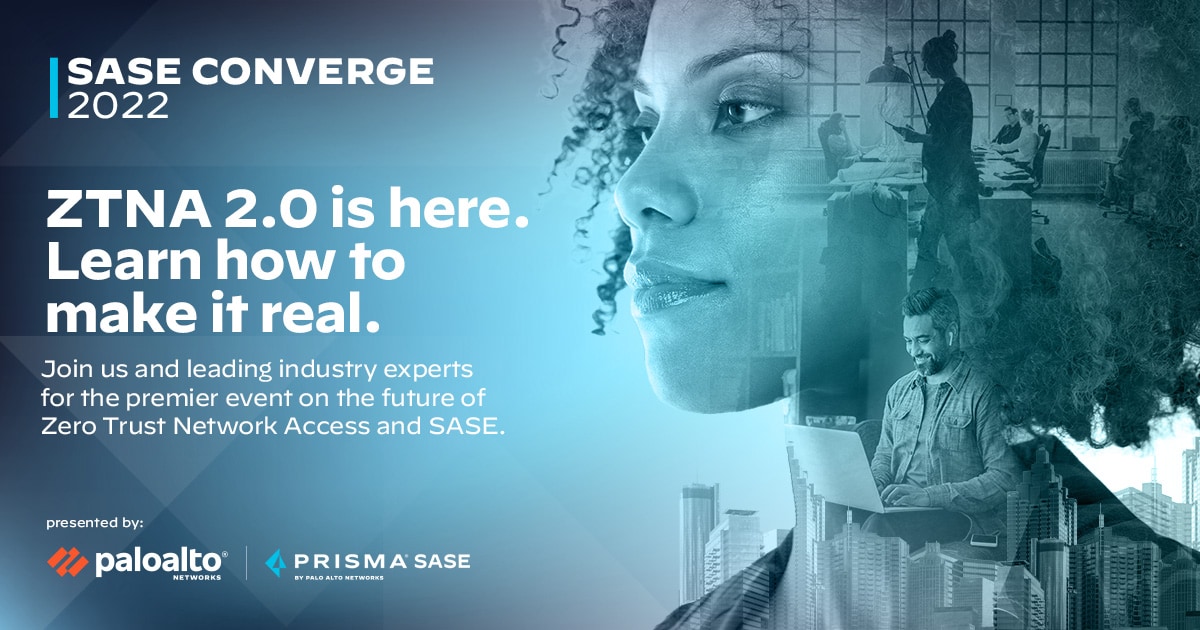 In this exclusive two-day virtual summit, you'll hear from some of the industry's brightest minds:
Nikesh Arora, chief executive officer and chairman at Palo Alto Networks
Nir Zuk, founder and chief technology officer at Palo Alto Networks
Lee Klarich, chief product officer at Palo Alto Networks
Neil MacDonald, vice president and distinguished analyst at Gartner
John Grady, senior analyst at ESG
Drew Conry-Murray, Greg Ferro and Ethan Banks, co-hosts at the Packet Pushers Podcast
At Palo Alto Networks, we believe the era of old-school VPN and ZTNA 1.0 solutions, with their "allow and ignore" model, is over. It's time for ZTNA 2.0, and we want to help you get there.
So, block your calendars and register today for SASE Converge 2022. We can't wait to see you there!
Gartner, 2022 Strategic Roadmap for SASE Convergence, Neil MacDonald, Andrew Lerner, John Watts, 24 June 2022, ↑